Road Bike
[This story was written by northwest Portland resident and local transportation activist Rebecca Hamilton.]
—
While our neighbors in southeast Portland emblazon their Neighborhood Greenway intersections with painted sunflowers and north Portland artists envision gold-leaf murals of cycling heroes along popular cycling routes, the Northwest District has long seemed to pedal on indifferently, unattached to biking as a part of its identity.

"If the northwest wants to join its eastside quadrants in consciously cultivating a neighborhood of bike commuters…it will take a culture shift."
— Rebecca Hamilton
Now, on the brink of transformation, the Northwest District is becoming aware of the significance of cycling for its future. With the approval of the Con-way Master Plan last month — a plan that calls for the transformation of the parking lot tundras north of Overton into multi-story residential and office space — we can expect a possible influx of tens of thousands of new residents into this area over the next two decades. Northwest Portland's best move is to embrace active transportation as the preferred and dominant modes of getting around the neighborhood if it is to avoid an auto-dominated circus that would wreck our quiet quality of life.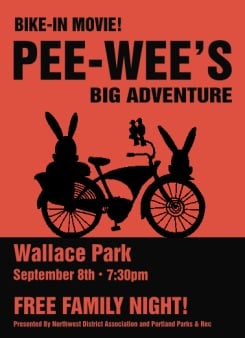 Events like this one are signs of
life for northwest Portland's
bike culture.
(Graphic: Damon Eckhoff)
But despite a comfortable network of sharrow-ed, low-traffic streets, enthusiasm and ridership seem lacking. If the northwest wants to join its eastside quadrants in consciously cultivating a neighborhood of bike commuters, errand-runners, and recreationalists, it will take a culture shift. So, how do we do that? We think we can start with bike fun.
At first glance, Bunny on a Bike rides and Mario Kart mushrooms in the bike lanes may seem like frivolous elements unrelated to the serious business of increasing bicycle mode share and safety in American cities. But these little things show that cycling is something celebrated and is part of the character of a neighborhood; it cultivates a camaraderie among riders that can that develop into pride. With pride comes ownership and a sense of responsibility. Over time, a strong bike-fun culture can attract new ridership (and the safety that numbers bring) and develop the local advocacy that is essential if cycling is to (metaphorically) take the lane in our neighborhood.
Local organizers are looking for ways to make cycling an integral part of how our neighbors experience their home. For example, the Northwest District Association (NWDA) tied their local love of our parks to enthusiasm for family cycling with their second annual Bike-In Movie event last week (it was Pee-Wee's Big Adventure). Everyone who arrived by bike received a raffle ticket for a chance at lots of great prizes from Bikeasaurus.
Local historians, too, have been making the connection between bikes and our pride as one of Portland's first neighborhoods. This past spring, the Historic Preservation League of Oregon used a bicycle tour as a way to showcase the places that make northwest Portland unique in their Pedalpalooza ride called, The Dream of the 1890s is Alive in NW Portland.
Building on the interest from that event, the 2012 Slabtown Festival (tomorrow, 9/15!) will also feature a bike tour of the former working-class, immigrant neighborhood north of Pettygrove St. — again demonstrating to neighbors how bikes can be part of the way we celebrate our distinctive historic character.
Going beyond passive existence and moving towards conscious participation in — and celebration of — a neighborhood cycling culture will take some work. But if we can adopt cycling as a key part of our identity now, then the NW District may be able to retain its quiet historical character even as it welcomes thousands of new neighbors to join us on the roads.
We're looking to head in a new direction. Come join us for the ride.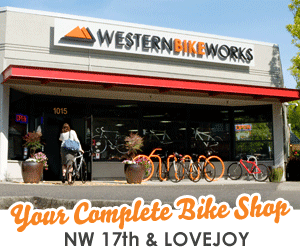 BikePortland.org » Front Page
Categories: Road Bike Tags: 99999999999, Article, Bike Commuters, Bike Culture, bikefriendly, Culture Shift, Dominant Modes, Eckhoff, Future, Guest, Guest Article, North Portland, Northwest, Northwest District, Northwest Portland, Portland, Portland Artists, Portland Resident, preps, Quadrants, Quiet Quality, Rebecca Hamilton, Ridership, Sharrow, Signs Of Life, Southeast Portland, Traffic Streets
A Cycling Tour through the Isle of Wight
In the summer of 2011 I decided to take a cycling tour in the UK. I spent hours researching where I was going to go and which tour to take. There are dozens of choices that cross gorgeous mountains, open fields and rocky coastlines. I ended up booking a tour for the Isle of Wight in July 2011. My fiance and I planned to do the tour together as a bonding experience.
We chose the Isle of Wight because of the beautiful scenery, slight hills and photography opportunities. As two hobby photographers, we wanted the best opportunity for photos. We also wanted a physical challenge that wasn't too overwhelming.
Buying Supplies
Supplies are the most important thing when taking on a biking tour. We both chose mountain bikes from bikesnbits website. My fiancé chose the "Claud Butler dalesman 2012 touring Bike", and I opted for the "Dawes karakum Ladies touring Bike". Both had the specifications we needed for our body type and goal. We purchased some simple equipment in addition to the bikes from bikes-by-mail-order.co.uk. We already have hiking and cycling packs, but we needed water packs to include in our luggage. Bikesnbits provided all of our materials.
Setting Off On The Journey
The Isle of Wight tour is a medium-level challenge. It's the perfect balance between easy and difficult. My fiance and I were very excited to set off on our journey. Day one started at Cowes, and it moves counter clockwise around the isle. It is 64 miles around the entire area. This takes five days to complete and four nights.
Day one
We rode for a few miles at a time. Periodically the group stopped to take photos, stretch and drink water. This wasn't a race, so we were comfortable taking in the scenery and enjoying what the Isle of Wight had to offer. The first few hills were easy, but as the day dragged on they felt tougher. We rested in an open area spot for the night completely surrounded by beautiful grass and nature.
Day two
We started with a gorgeous sunrise over wight. We had a delicious breakfast of fresh fruit and nuts before gearing up to go. Our next stretch of land was Cowes to Mottistone. This is a total of 23 miles. It was uneventful for the most part. The village here is gorgeous. It's all very quaint and charming. My fiance and I decided that we would live here happily if we could. We spied various animals running across our path and in the grasses. The weather was pleasant.
Day three
This route took us from Mottistone to Sandown, Just 22 miles in total distance. You can see the beach from this strip, and we actually stopped to enjoy it for a brief period of time. The ocean was still quite chilly though. We didn't spend much time in the water, but we watched the wildlife on the shore until sunset. The weather was warm so no fires were needed. It was another beautiful day of perfect weather.
Day four
This was our last night that we would be sleeping. Nearing the end of our journey we felt quite sad to be leaving this beautiful place. It won our hearts completely. Sandown back to Cowes was a nice journey, but some of the final hills were a bit of a challenge. We were tired and ready for a shower.
Day five
Our last day was spent finishing up our exploration of Cowes and enjoying great company. We made some friends on the way so we exchanged our information with them. We had one last meal and departed by ferry from the Isle of Wight.
Concluding Our Journey
Experienced riders will not face any challenges while out. Beginners will have a harder time overcoming the rocky paths, hills and sandy shoreline areas. The path isn't secluded completely, but it is quiet and away from the towns and villages as much as possible. If there were an emergency, you would be able to get help quickly. That's part of why we chose this area.
This cycling tour has easy access to historical sites, villages and natural beauty. This tour can be as long or short as you like. It is customizable to include off-trail routes as well. We chose to stick with the trail. We didn't want to risk getting lost. We are now excited to go on more cycle tours in the UK and around the world. It was simply a life-changing experience. Overall it was a trip to remember with adventures and good times.
Author Bio:  Lisa and my fiancé take this tour and really enjoyed these places. We both love traveling and I love to write about tours, Traveling and biking.
Categories: Road Bike Tags: Beautiful Scenery, Claud Butler, Cowes, Cycling Tour, Dawes, Drink Water, Fiance, Gorgeous Mountains, Hobby Photographers, Isle Of Wight, Luggage, Mail Order, Medium Level, Mountain Bikes, Perfect Balance, Photography Opportunities, Physical Challenge, Rocky Coastlines, Touring Bike, Water Packs
When a private firm failed to meet its promise of providing enough guards for the Olympics, the British military was called in to "mind the gap" in security. A reported 3,500 British troops, some of them just back from Afghanistan, will step in to help guard Olympic venues.
» E-Mail This » Add to Del.icio.us
Categories: Road Bike Tags: Afghanistan, British, British Military, British Troops, Del Icio Us, Duty, E Mail, Gap, Guard, Guard Duty, Nbsp, Olympic, Olympic Venues, Olympics, Private Firm, Promise, Sports, Thousands, Troops
Got this bike for nothing at the local dump whilst dropping something off. I've never had suspension forks before so excuse me if I ask something daft. The forks are Suntour XCT and they are badly rusted up at the top where the seals are (see images below). If I understand correctly these forks have no air pressure or oil inside, just springs and some rubber dampening things. Can I just dismantle the forks, clean up the rust with wire wool, fit new dust covers and use the forks? Does it really matter if the seal at the top is not perfectly smooth? The forks are not seized up, they slide up and down and feel smooth when doing so. The bike appears to have had very little use (no wear on the chainrings), it looks like it has been stored in the rain and gone rusty. I ride some quite bumpy/rocky paths but don't do them fast.
Categories: Road Bike Tags: Air Pressure, Chainrings, Dust Covers, forks, images, okay, Rain, Rocky Paths, Rust, Rusty, Seal, seals, Suspension Forks, Xct
Last minute cost-cutting has resulted in significant changes to the layout of the Sellwood Bridge that could have a big impact on how walkers and bikers use the bridge. With a key vote on the final design set for this coming Monday (7/16) and a decision on the plans set for Thursday (7/19), the Bicycle Transportation Alliance is urging the county to delay the vote.
The BTA has been tracking this project closely and they have a volunteer on the Citizen's Advisory Committee. Here's more from a BTA blog post yesterday:
"The county, in an attempt to save roughly $ 2.5 million, is proposing to remove one of the west-side ramps. As a result, most bike/ped traffic is now on the north side of the bridge… These could be good changes, but only if they're done right and details are addressed. Currently, Multnomah County Commissioners are scheduled to vote on this new "final plan" on Thursday of next week… The Bicycle Transportation Alliance urges its members to tell their commissioners that more time is needed to vet and improve this new design."
At issue is a new design only made public last week that shows a shift of the biking/walking path to the north side of the bridge and the removal of a ramp on the east end of the bridge that could make bike access to the Springwater Corridor less than adequate.
Here's the design that was approved after years of public process (and generally well-liked among advocates):
And here's the new asymmetrical layout the County is putting forward now: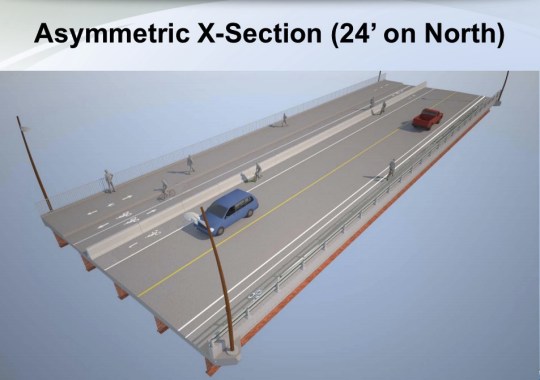 The BTA says more time is needed to vet these changes and they're urging people to contact Multnomah County Commissioners. On Monday, a group of elected leaders from throughout the region (including Oregon State legislators, Mayor Adams, and others) will vote on whether or not to recommend the new design.
See the BTA Blog and SellwoodBridge.org for more information.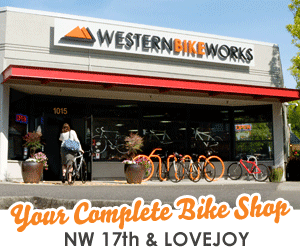 BikePortland.org » Front Page
Categories: Road Bike Tags: 5 Million, 99999999999, Advisory Committee, Advocates, Bicycle Transportation Alliance, Bikers, Bridge, Bridge Design, Bta, changes, Citizen, Cost Cutting, County, delay, Design, Final, Major, Math, Multnomah County Commissioners, Protocol, Ramp, Sellwood, Sellwood Bridge, Side Ramps, Springwater Corridor, urges, Vet, vote, Walkers, West Side
The Madden NFL generation may not be able to relate to a game where you just had to hope the players went in the right direction. But to many of a certain age, it was one of the cool toys of the '60s and '70s. And it still has fans.
» E-Mail This » Add to Del.icio.us
Categories: Road Bike Tags: Behind, Certain Age, Cool Toys, Del Icio Us, Dies, E Mail, electric, Electric Football, Electric Generation, Football, Football Nfl, Game, Genius, Madden Nfl, Nbsp, Norman, Right Direction, Sas, Sports, Toys Of The 60s

Jordan Drinovz and Cavan Brady. Vancouver, BC.

Matt Hunter. Green River, Utah.
Categories: Road Bike Tags: Del Icio Us, Dot, E Mail, Historic, London Venues, London's, Nbsp, Olympic, Olympic Games, Olympic Hosts, Olympic Venues, Sites, Sports, Summer Games, Summer Olympic Games, Venues, Venues London
Source: Fox Racing
When Josh Bryceland was over here from across the pond after Sea Otter, we shot two edits and the catalog. Here is one of the edits that was shot on a sunny Southern California day near Arrowhead Lake .
Categories: Road Bike Tags: Arrowhead Lake, Bike Magazine, Break, Bryceland, California, California Day, California Source, Fox Racing, Josh, Lake Bike, Minute, Otherside, Otter, Pond, Rat Boy, Riding, Sea Otter, Southern, Sunny Southern California